It's Friday. This means that as of 1 pm Eastern Standard Time, I will have a 5th grader. What? Wait. I have to read that again...a 5th grader.
Moi? No really.
Oh that's scary. She's one year shy of middle school and while she thinks she may be ready, I am FAR from ready. Yes, yes, I know. I have a WHOLE summer and school year plus another WHOLE summer before she starts middle school, but that's really not very far away at all.
I mean not like it was way back when she was 3 and just started preschool. Middle school seemed centuries away when she was 3.
*sigh*
If only they stayed little.
*********************
Are you wondering who gets the bowl full of ice cream this week?
Today's BSOW is....
(drumroll please)
She's knows exactly how to
end her day
. She's not ashamed to admit her
age
. She even enjoys a
baby for dinner
once in awhile. She's got 3 books waiting to be published. And she is a single mom. Can we say superwoman here?
I asked Buffi if she died and was reincarnated as an animal, which animal would she like to be and why...
Buffi says:
My "A" (real) answer: I'd come back as a mosquito. I'd only live one day, then return as a human again.
My "B" (backup) answer: I'd come back as an elephant. I'd keep a mate for life and never worry about getting too fat.
Run, go check out Buffi's blog and leave her some love. Tell her what animal you'd want to come back to life as, then come back here and link up for Friday Follow Me., We can hold hands and bloghop together.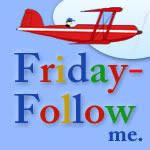 This week's Friday Follow Me is hosted by Stephanie at
Goober Grape Monkeyman
, Meg at
Just Another Manic Mommy
, and Traci at
Traci66
. Just click the button above to go the Friday Follow site, follow the 3 hostesses (and leave comments) and link up (just once is all it takes!) and let the FUN begin!!!
See ya there!!