Please welcome back Dawn from
The Way I See Things
. If you missed it, you can read her interview yesterday when she was announced as the
Best Scoop of the Week here
.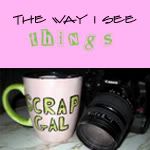 What comes to mind when you read "love" and "exception"?
The first thing that came to my mind when I saw the word "love" was my family. I couldn't imagine loving anyone more than my THREE guys (hubby Mark and my boys Brett and Dylan.) Animals are a close second. I have loved cats and dogs my entire life. I had a a crazy dog growing up and most of my friends and family had cats and dogs as well. Since I was ten years old, I KNEW that I would NEVER live without being surrounded by a menagerie of pets. Enter the second word "exception." You know the rule: Never say never. At the age of 24 I found the perfect guy. He was smart and funny and loving and . . . EXTREMELY ALLERGIC to all things with fur! Could I really marry this man I LOVED with all my heart knowing that I would have to give up my dream of being the next Dr. Doolittle?
I guess LOVE is a truly powerful thing. I made the EXCEPTION for the man of my dreams. Still I was sad and he knew it. One day he actually made his own "exception" and tempted the fates by allowing me to adopt some kittens (while taking lots of allergy shots!) I was so happy! Unfortunately my glee was short-lived. Within two weeks, my husband was hospitalized with what we thought was walking pneumonia but turned out to be a severe allergy to the cats! It broke my heart to give them up and since that day I vowed NEVER to get involved with pets again (I couldn't bear the heart break).
Still, I might be willing to make one more EXCEPTION -- there is a fabulously adorable hypo-allergenic puppy down the road that I'm falling in LOVE with!
Dawn
*****************************
Have a great weekend, everyone. The kids and I are off to the Pennsylvania Dutch Country for the weekend.
Leave us lots of love?