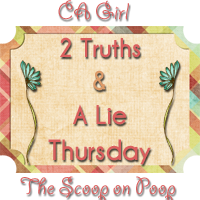 Tell me 2 truths and a lie and make me guess which is the lie. You've played this game before, so why not join The Scoop on Poop and CA Girl every Thursday by
Grabbing the handy little button on the sidebar
Posting your 2 truths and a lie
Link up
Reveal your lie the next week!
It's that easy!! You know you want to play!! Join up today!!
Premier Edition
The Name Game
I Married a Leprechaun
It's All Heart
Rocking the Cradle
Vodka Woes
My Favorite Things 1
Divine Secrets to Tell
Castle in the Sky
Etsy to my Heart
Silent Princess Looking for a Prince
Potty Training 101
My Favorite Things 2
McDancing
Mama's Got Talent
The Privileges of Being a Mutt
Oh the Places I'll Go
The Write Stuff
Write All About It
Just Call Me Happy Feet
Christmas Past
Naughty or Nice